Your Home Away From Home
Castlecary Hotel
IMPORTANT HOTEL UPDATE
During these uncertain times, we have had to close our Cary Bar & Grill and cancel all functions.
We are however still operating the bedrooms for key workers and NHS staff.
We can offer breakfast in a bag to take away and can provide a hot dinner (prior to 8pm) with this being served in your bedroom.
We also have a Take Away Menu which is available between 12 noon and 8pm each day. Please call 01324 840233 to place an order with payment being made by card over the phone
We thank all of our guests for your continued support and wishes and hope to see you all again soon.
Please call 01324 840233 or email sales@castlecaryhotel.com for further details or if you have a query with an existing reservation.
BOOKING PROCEDURES DURING COVID 19
Until further notice, the following changes have been made to our bookings system.
BOOKINGS
All bookings MUST be made directly with the hotel. This allows us to verify a guest's Key Worker status.  Only Key Workers are permitted to stay at present.  Guests will be required to show their letter of authorisation as a Key Worker either by email prior to arrival or a copy should be handed in at check in.  Please note that in the absence of such a letter, we can not allow a guest to stay.
Rate – £65.00 for accommodation and £5.50 for breakfast if required.  Breakfast is in the form of packed lunch bag and can be ordered from reception.
All bookings must be confirmed by email and rooms either prepaid or a credit card left to guarantee.
In the event of cancellation – if this is done within 7 days of arrival the first night will be charged in full.
Minimum of 2 night stay … sole occupancy rooms only.
ARRIVAL AT HOTEL
Guests should make their way to Reception and they will then be handed an envelope which contains their sanitised room key, letter regarding restrictions in hotel, a copy of the Residents Dinner Menu and WiFi code.
New one way system will be explained to guests.
Rooms will not be serviced during a guest stay. Additional towels, etc will be left in the rooms.
DEPARTURE FROM THE HOTEL
Keys to be left on reception desk.
Should you require to stay the week following your departure, please discuss with the Team to ensure that we can offer a room for you. During these times we are not operating with all of our bedroom stock.
All payments by card – no cash.
COVID 19 PROCEDURES
To protect both guests and staff the following procedures have been implemented. 
There is a strict one way system in operation – please follow signage provided.
A maximum of 3 guests will be permitted in reception at any one time using the 2m distance markers.  If reception is busy when you arrive, please remain in the car park until you can enter the building.
There are hand sanitisers which we would ask all guests to use on arrival.
If you require to collect anything from the desk – room key, food, etc.  We ask that you remain on the 2m marker until the item is placed on the desk.  The member of staff will then stand back to allow you to collect.
Additional cleaning and sanitising procedures have been implemented.  Public areas will now be cleaned and then disinfected every 3-4 hours during the day. During busier times we ask you to bear with us to allow for additional sanitising between guests.
NO socialising is permitted and guests are requested not to linger at reception.
About Us
Classic Comfort with a Modern Twist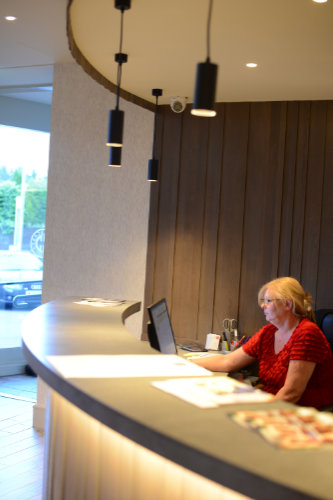 Welcome to Castlecary Hotel. Our family owned hotel is ideally located in the central belt of Scotland and with motorway access to the North and South a mere few minutes from the front door, offers an ideal base whether you are visiting on business or pleasure. Your ideal venue for weddings, corporate events, and weekend beaks.
We offer 52 ensuite bedrooms which includes 2 stunning honeymoon rooms.  All rooms come with direct dial telephone, television, tea & coffee making facilities, iron & ironing board and either a walk in shower or bath with overhead shower.  We also have family bedrooms should you wish to bring the children with you.
We also have a range of private rooms should you be hosting a meeting or conference and offer competitive delegate rates.  We are also the ideal venue for your Charity Dinner Dance, Wedding or private party.
Our doors are always open should you wish to come in for a look at or facilities, discuss your requirements with the Team or just have bit to eat and a drink
Discover
Rooms & Suites
Whether you're looking to relax and unwind or staying with us on business we have a room to suit your needs and your budget.
The Luxury Suites
Brand new & located in the main hotel building these luxurious suites are the ultimate way to enjoy your stay. 
Luxury En-Suite Bathroom
Full king size bed
Complimentary tea & coffee making facilities.
Smart TV
Free WiFi
Breakfast included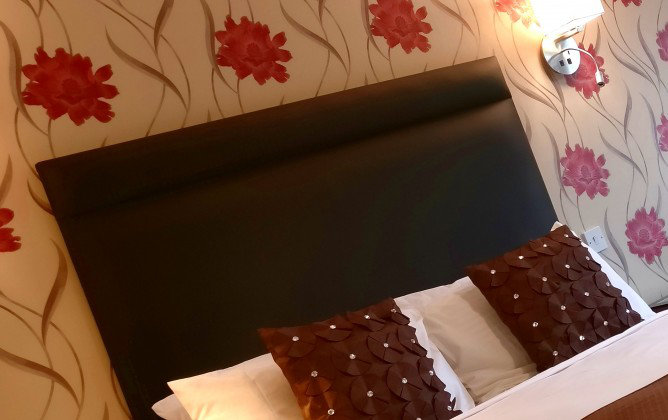 Club Rooms
The perfect place to relax and unwind at the end of the day. Within the main Hotel building these rooms are spacious, modern & inviting.
En-Suite bathroom
Double or Twin beds
LCD TV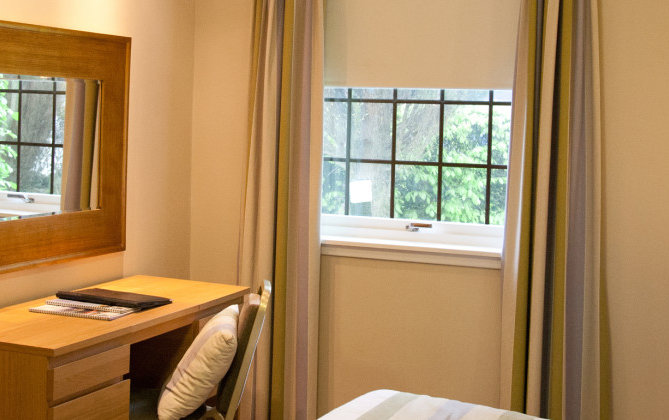 Cottage Rooms
Situated in our private courtyard these quiet, relaxing rooms are away from the hustle & bustle of the main building. 
En-Suite bathroom with walk-in shower
Double or Twin beds
LCD TV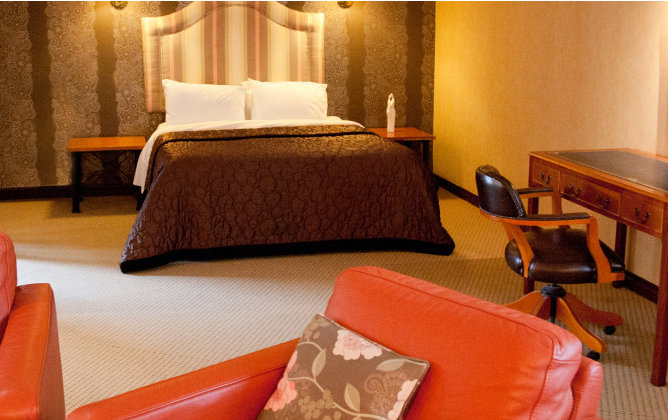 Junior Suites
The perfect blend of luxury & practicality our Junior Suites have plenty of room to work and play
Luxury En-Suite bathroom with walk-in shower
Queen size bed
Separate work & seating area with LCD TV
Food & Drink
The Cary Bar & Grill
Newly refurbished to a very high standard the Cary Bar and Grill serves a variety of traditionally Scottish and international food. An extensive menu  designed by our talented Executive Chef awaits our guests with all dishes freshly prepared every day.
For refreshment, enjoy a wide selection of beers, wines and spirits from the well stocked bar or indulge yourself with a freshly ground coffee
Free WiFi
We offer free WiFi internet access in all our public areas and guest rooms.
Free Parking
There is ample free car parking available on site. 
Bedroom Comforts
All guest rooms have tea & coffee making facilities, hairdrier & colour television.
Room Service
We offer 24 hour room service to all our guests, however choice may be restricted at times
Business Services
Our reception staff can assist with printing and postage if required.
Meetings
We have a choice of 4 meeting rooms with capacity from 2 to 180.
Checkin & Checkout
Check-in time is from 3pm on the day of arrival. Departing guests are asked to check out by 11am. Late checkout can be arranged with reception if required.
We will attempt to accommodate guests who arrive early but unfortunately cannot guarantee the availability of your room before 3pm. 
Cancellation Policy
Please check with your booking agent for any specific cancellation terms that may apply. Bookings made directly with the hotel may be cancelled up to 24 hours before arrival. Cancellation charges may apply.
Experience the difference 
Castlecary Hotel